I currently live in a one-bedroom apartment in Chelsiron – an intersection between Chelsea and Flatiron – with no distinct personality of its own. It's a nice apartment, but I chose it when I was single; a divorcee for whom having a home of her own, let alone the purchase of a Manhattan apartment, is worn like a proud but frayed survivor's badge. The apartment was also a practical choice; an investment in my future, which at the time, was a large blank screen. At the apartment's closing, which I attended alone surrounded by suited brokers and was handed the key, I had no idea that in just two years time, I would remarry and promptly (and happily) outgrow it.
Our homes are indicators of our state of mind, and moving forces us to not only look ahead to where we are going, but to look back on where we've been. After my ex-husband and I separated eight years ago and I moved out of the house we had shared, I moved seven more times, each apartment encapsulating a time in my life like a chapter in a book, with its own distinct story (more here). In my final months in LA, I lived in three corporate apartments, their generic and sterile furnishings mirroring my rootless existence and blank identity. My first apartment in New York City was a sublet in an Upper West Side walk-up, which belonged to a dude friend, furnished with oversized dude furniture and a beer bottle collection. Then, it was Sullivan Street in Soho, where I got to decorate from scratch, each item a reflection of my own taste, rather than the expensive and hasty by-product of a wedding registry. I even painted my room pink to declare my womanhood, and left the kitchenette unused, bacheloritte style. Then, I upgraded to University Place, where the adjacent NYU dorm represented my twenty something mentality, as I dated and partied, cramming in the twenties I felt I had never had when I was married. Then it was time to settle down and get a "real" apartment, or prove to everyone – including myself – that I was a grown up. Looking back, part of me resisted this label, because to me this move didn't mean that I had moved on; that I had healed. To me, it signified a kind of resignation of perpetual singlehood.
About six months later, I rekindled my relationship with my now-husband and he moved in with me, and between his 6'7" frame and that of my large dog who resembles a small pony, it became evident we would soon outgrow the place. And after one year of marriage, as we begin to plan a family, we've started talking about moving to that place that all wannabe parents (and wannabe writers) talk about….
Brooklyn.
But I have a good excuse – my husband's new office is located there. That seemed to trump, even eliminate, the possibility of us moving to New Jersey where my parents, sisters, and their families live. As much as I would love to be near them when I have my own children, I think my husband's work proximity matters most.
When I woke up yesterday morning (open house today!) the air crackled with the anticipation of a new beginning. I dressed in new jeans, and a comfy but chic cardigan sweater, deliberately leaving the soho booties in the closet, in my attempt to look stylish but effortless ala Brooklyn chic. I noticed my husband put on a cashmere sweater I had bought for him, as if he too was feeling the flutter of excitement.
We had three open houses to hit in Ft. Greene and Clinton Hill, but first we stopped for brunch on the popular strip of restaurants on Myrtle Avenue. A cozy bistro caught my eye, and as we entered and found two seats at the bar, I realized they were the same two seats I had occupied three years ago, when meeting a friend who lived in the area (and who had also serendipitously worked in my former building on University Place, which I write about HERE.) It had been a rainy day, and we had both been single, lamenting our dating lives on breaks from a discussion of my new manuscript, about the six different "what-if" lives a woman lives, had she made different decisions. At the time, I myself had been positioned in the locus of that what-if intersection, wondering which life I was going to embark on. And now, here I was, sitting beside my new husband, three years later, in the same spot, but with an entirely new life, a new story, a new direction – one of six, or perhaps one of infinity, that I had chosen. Or rather, that I had been blessed with.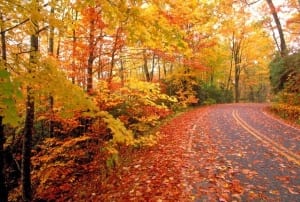 I looked at my husband and a rush of emotion engulfed me. Here I was, over a decade later from when I had home hunted in Los Angeles with my ex-husband, when I had tried to stuff my fears and doubts into a paragon of happiness, thinking it would fix things, and fix me. But as I looked back on that girl who left that life, and the string of lives she subsequently inhabited, or tried on, I didn't feel self-pity. I didn't feel grief.
But the tears started forming anyway. "Are you ok?" my husband asked me.
I put my hand on his cheek, then his back, and leaned in to inhale his scent, like an emotional reality check, and realized that I had been caught up in the motions of planning our day and researching neighborhoods, that I almost missed the meaning. I had been given another try, another chance at another life – one that I could never have envisioned for myself but which had become my definition of happiness. Of the multitude of paths that had once stretched before me, somehow I had gone down the right one, animating and illuminating the big screen of my future with light.