I said goodbye to Gemma, my dog of almost thirteen years, yesterday. I had prepared myself for its inevitability for years, with morbid humor, with extra special attention and kisses, and by telling myself that establishing expectations for impending grief can help mitigate it when it comes. How naive of me that was. And yet also, perhaps not. When the time came, it was as awful and heartbreaking as I predicted it would be, but along with that came a strange, ethereal form of calm. Of peace.
I got Gemma when she was ten weeks old, on my 32nd birthday,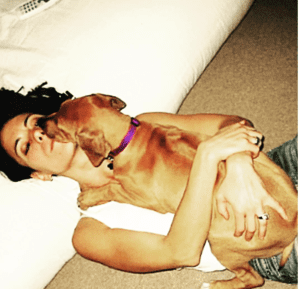 as a gift to myself, from a breeder in LA where I lived at the time. I was two years away from separating from my ex-husband, and subconsciously, I must have known that I needed her to assuage the pain and loneliness that was expanding inside me, and that I would need her for the arduous journey that was to come. I must have known that the "kiss" command was the one she needed to learn first, as if I knew that was the one I would soon need most. I named her Gemma, because I'm a Gemini, and she's a Gem, and thats the kind of cheesy shit you do when you fall in love with a chunky ball of fur, wide amber eyes, and floppy ears that tend to invert themselves like cauliflowers.
When I left my ex-husband and the home we lived in, with the big backyard and the rolling hills that Gemma loved to bounce around on like a dorky deer, I moved four more times, from two guest houses in Hollywood, to a corporate apartment in Santa Monica, and a few weeks in a hotel. Gemma was by my side (while pulling on her leash for a cigarette on the street that resembled a french-fry), or snoring next to me, her nose an inch from mine, as I wept in her fur. When I left Los Angeles to start my life over in NYC, a friend in LA cared for Gemma until I found a place in NY. On the day my parents drove me to Newark Airport to get her, I ran to the "baggage claim for pets" area, shrieking when I saw her emerge, her face peaking at me from inside the crate, her entire body ricochetting with joy at the sight of me. She knew that our reunion meant she was home. And I knew I was home too. When we went for our first walk together in the dog park on Columbus Avenue and 79th Street, I burst into tears when Gemma took her first NYC poop, crying "We did it, Gemma! We did it!"

She rescued me – for the next eight years – in all those moments she bore witness to my sorrow and upheaval, both the visible – three more apartment moves, including in the worst snowstorm of the decade, bad dates, fights with my ex, unprompted crying jags of self pity and despair – and the invisible. If I had a bad dream and woke up distraught, she was there, poking me with her wet nose or yawning in my face. Like a cat sometimes, Gemma wasn't a mush ball on command. Sometimes after one kiss, she would turn her head away and stare at me sideways. She made me work for it, but it made me love her more. She understood human nature, that love, that reward, needs to be earned and appreciaed, or at least preceded by a treat (it didn't work that way in reverse, of course). She was a clear communicator of her needs, be it when closing my laptop with her face when she wanted attention (or food), putting her head in the trash can and emerging with the lid stuck around her neck (food), or whine-talking when I ate lunch, dinner…food. Or just swiping and inhaling the thing like a dog-magician, like she did to Mom's cheesecake when Mom went to greet her guests who were meant to eat said cheesecake. Sorry Mom! Sorry cheesecake! (And sorry to those of you who lost their meals to that ravenous beast – I know there are many of you).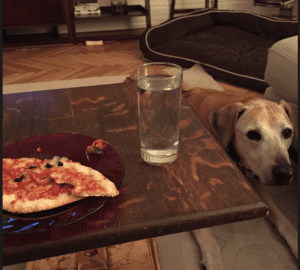 Besides being my guardian and protector, when I lived alone or we traveled together, she would suss out people's essence. She was an avid crotch sniffer (and inhaler), be it to strangers in the elevator ("Sorry, she doesn't bother with flowers or conversation first!"), and once, to a blind woman (I didn't make a joke then, no). But most importantly, she sniffed out the men I dated that way, quietly telling me what she thought afterwards, with a snort and a shake of her head.
Until she met my now husband who is 6'7″ – after several upward attempts to reach his crotch unsuccessfully, he squatted down to kiss her nose instead. She kissed him back. She knew, and so did I.
She loved him instantly, and he loved her. When we moved to our new home a year ago – Gemma's retirement home adjacent to Riverside Park, which her old bones could not revel in – Gemma mellowed out, but I don't believe it was solely because of her age. Gemma saw that I, her mommy, had mellowed out. She sensed that I was content, that I was happily remarried, that I was no longer lonely, and that I was planning a family (I never told her directly but I have no doubt she knew, or overheard our conversations).
She knew that it was okay to let go – to let me go. She knew that her purpose on this planet, to be my guardian angel, my best friend, my caretaker, my beloved companion, had been fulfilled. Her back legs had been deteriorating markedly over the last year, but she waited. She waited until my husband was in between semesters at school so that he could be there for me, and with her. She waited until my gazillion rewrites on my novel were complete, she waited until she knew I was no longer procrastinating the advent of motherhood. She maybe also waited until after the election and the depressing air of 2016 cleared. When her legs collapsed suddenly on her midnight walk with my husband and he woke me distraught: "Gemma's not ok", I knew too. I knew that Gemma, like life, was not interested in sending me a subtle message of slow, indiscernible decline. No, her legs gave out – and so did she. She didn't want us to belabor our decision to offer her peace, swiftly and compassionately. She made it clear to us – she offered us compassion and grace in return.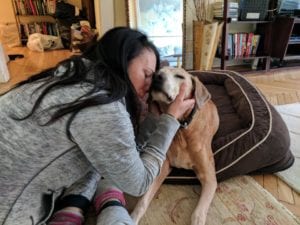 I do believe that on the day Gemma and I found each other, that we were meant to be. That God knew that I would need her, better than I knew myself. In those final hours of unbearable sorrow and grief, when we said our goodbyes, when I thanked her for all she had done for me, when I whispered to her that she did a wonderful job, and that Mommy is ok now, I felt a rush in my chest, like a window being blown open. I could feel my heart breaking into pieces, as if a love-geyser was exploding, overflowing, and I could feel God's intention when he created us, and the animals that are our devoted best friends.
The word for dog in Hebrew is "Kelev." The word "Lev" means heart. "Kelev" means "of the heart." My Gemma was of my heart, and I knew it the moment I met her, on my 32nd birthday. Numerically, the letters for "ke-lev" also equal 32.
No wonder my heart hurts so. It's because she continues to live inside it.