My husband and I put our Chelsea apartment on the market about 2 weeks ago, right after we found an apartment we liked on the upper upper west side. Since the sellers weren't in a rush, I figured we weren't either. I had until at least August to chill out in my current one bedroom, the one that I had moved into when I was single, before my husband and I started re-dating. I had some time to enjoy the roof in the summer time, and my eleven-year-old dog Gemma could chillax in the dog run too. I had some time to acclimate to the life stage shift that comes with moving to a bigger space that can accommodate a family, and all the psychological and emotional adjustments that come with it.
So we cleaned and de-cluttered our apartment. Showings began immediately, and fortunately I am able to work from home and can be on call to de-dog the apartment beforehand.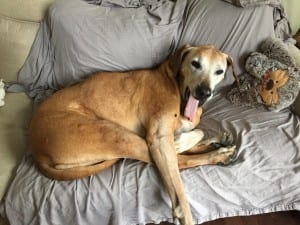 As in, removing her dog bed from the floor, the sheet from her chaise lounge, and taking a lint brush to the couch and comforter on the bed. It's her house, we just live in it. (and the rent aint cheap).
Around this same time, I had put the finishing touches on my memoir proposal, and my agent decided it was ready to go "on submission," which means she puts together a list of publishers with names you may have heard of such as Random House, and submits it to them in the hopes that they buy it. Saying that I had butterflies is an understatement. My story, in a way, my baby, which had been gestating for years was going out into the world, and I was worried and excited. I had written a novel several years ago that had also had a shot at publication, so this wasn't my first book barbecue. I knew what to expect in terms of process, patience, and the inevitable rejections. But this, this was different. This was not – and is not – fiction. This is real, this is true – or at least my experience of what is true now, and in my memory. With this book, the butterflies had blown up into monarchs that needed to chill the ef out. The book also represents my very own gestation, from young, self-absorbed, and clueless twenty something through the disillusionment and identity crisis of a single divorcee, and then to the third act of me – finding myself and subsequently my true love, my husband, whom I marry at the wizened age of forty.
On the morning my literary agent hit the proverbial "send" on my memoir, my real estate agent emailed my husband and I to say that an offer had been made on our apartment, and they wanted to move in as soon as possible – in no less than four weeks. This would mean we might need to find a temporary housing solution in the interim.
Luckily, I was in a taxi with my best friend and colleague, Kelly, because I burst into tears. "Isn't this good news??" she asked, looking at me with compassion and confusion.
I nodded at her, as tears streamed down my face. "I feel like I got shot out of a canon, " I told her, aware of how dramatic that sounded. "It's a just a lot," I said.
But tears? Like this? This was indeed good news. My thoughts immediately went to Gemma, who had just turned eleven, and this only made me weep more. I thought of her then, curled up on her throne in her palace, white face tucked into her lumpy chest – my furry baby with whom I had moved close to ten times with in the last decade, from multiple temporary homes after my ex-husband and I separated, to NYC in various sublets. Who had been my companion through all my joy and pain, and the thought of moving her yet again undid me.
But that couldn't be the reason. Her new apartment would be so much bigger, with more territory to mark.
A few days later, the real reason dawned on me. My current apartment represents and is the last tangible vestige of the "before me." It was an apartment that suited me when I was single and unsure of what my future looked like. It was the apartment that my husband joined me in. And now, soon, that proof of this stage of life will disappear into the past, and we will move in together to our new home – our home. This was unequivocally a joyous and momentous step and one that I had yearned for, but I don't believe that we are able to look forward, to move forward both literally ad figuratively, without looking back at where we have been.
And Gemma represents the me that I had been. She is the one remaining thread that links me back to my former life, when I lived in LA with my former husband in my former house, and on my thirty-second birthday, I drove to the breeder's ranch in the valley to meet her, on a mission to have a puppy. I named her Gemma because I'm a Gemini and she's a gem and that's the kind of cheesy shit you do when you fall head over heels for a floppy eared animal. I needed to have that dog. I needed her love.
The timing of all of this and the inherent and prominent markers of the cycles of life are not lost on me. I am getting older – transitioning into the stage of being a homemaker and a mother – as my furry child transitions out.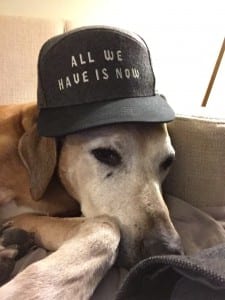 The pain and anxiousness I am experiencing must be growing pains. Or a shedding of skin. Like a caterpillar hanging upside down, getting ready to be a butterfly.
Or like standing in a crossfade. One stage of my life is fading out, and another is fading up. And I am standing right at it's plexus, where the frames on the end of one film strand begin to darken, and a new strand, a new scene – a new life – begins to brighten.