It's looking like 2010 is off to a good start. Seems that way for a lot of my friends whom have had some serious rough patches in the last two years. But something happened in late January. Maybe we were all so desperate for this year to be an improvement that we made sure it would be, by doing something about it. Like implementing those resolutions asap. We've heard them before. Join a gym. Quit drinking. Two of my girlfriends got into therapy, and one fired hers (might not have seemed like a productive decision, but a proactive one nonetheless).
Like many people, I decided to check in on my health, and went to the doctor. It was my first visit, so the doctor had to run through the long list of probing health questions. When I was twenty-five, those questions seemed innocent. Now? Not so much.
Doc: "Any ailments?"
Cougel: "No, none that you can see." (Yes, I even employ witty banter with my doctor).
Doc: "How old are you?"
Cougel (pause): "Thirty seven."
Doc: "Married?"
Cougel (longer pause): "Divorced."
Doc: "Children?"
Cougel (no pause): "No! I thought doctors were supposed to make you feel better, not worse."
He was not amused.
Maybe that's why I could feel him smirking when he phoned to tell me my cholesterol was "very high" and that I needed to "drastically change my diet, immediately." I understood this to mean, no more Ben and Jerry's binges. I was not amused. Ben and Jerry had been MY late night therapists over the past two years, and now it was looking like I needed to fire them both. Bottom line, as with your boss, or your spouse (and you married men know this), even if you don't like what you're hearing, nod your head and agree.
But, a major nutrition overhaul wasn't enough change for me. Oh no. I needed more. I decided to move.
This was optional. Optional drama. I didn't have to go anywhere. My lease was renewable, and the rent had been lowered. Staying put was enticing. But maybe the lease expiring was a sign. Telling me I needed a real change. I questioned whether I was just searching for something new and benign to talk about with friends and with my parents (my father loves reading leases and anything which requires his daughters' signatures). Or maybe it was a subconscious attempt to shake things up. Because I didn't really have much going on. The post divorce dust had finally cleared, I had completed a challenging revision on my novel, and my dog hadn't bitten anyone or downed a bottle of Advil in a whole year. She too had made some resolutions it seemed.
So with only three weeks remaining on my lease, I hit the pavement in search of an apartment. I had high standards, a lot of criteria, more than most. For those of you who've read this blog thus far, I'm sure this comes as no big surprise. My argument against settling for Mr. Good Enough, also translates into Manhattan rentals. It seemed that finding an apartment that was right, that suited my personality, under a time crunch, was as frustrating and hopeless as finding a partner (for the same reasons). Nope, nothing seemed good enough. Exasperated, I questioned my decision. Was I a fool for not staying where I was comfortable, for courting this kind of stress? Not only that, I admonished my preferences, my tastes. Why couldn't I just freaking like something? I couldn't even look my eager broker in the face when she'd wisk me into a unit she was sure I would love. I wondered if I had contracted the "perceived options disease" that afflicts many New Yorkers. Just like with dating, you think there might be something better, tomorrow, around the next corner. Making it impossible to commit to the here and now.
In the end, I found a place that I loved (I know, I couldn't believe it either), and set up to move on the last Friday of the month. As in, last Friday. The day of the biggest snowstorm New York City has had in years. I woke up at 7am, with all of my belongings packed up, sick with a sinus infection, and when I saw that shit coming down (there was nothing white and pretty about it) I told myself not to freak out. If anything, this would be a good story!
But it didn't work. I was already feeling quite vulnerable. In 2007, the year in which the path I was on took a sharp turn, I moved five times. Knowing that people move all the time, doesn't seem to make it easier. The upheaval in our physical environment reflects the emotional, and vice versa. For me, it triggers feelings of loss. Moving forces us to take a hard look at where we've been, and where we hope to be going. And for those of us who have been married or lived with one person for a long time, it inevitably underscores their absence. Especially when you're up late packing and the smallest thing can serve as a heart-wrenching reminder of what once was. For some, it's a found photo or a piece of jewelry. For me, this thing was a dishtowel I had purchased on my honeymoon.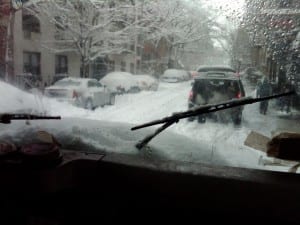 I fell in love with my movers. And not just because they actually showed up and parked their truck on a snowbank, coming to rescue me at all costs. The Forman, a dead ringer for Snoop Dog, kindly told me to step aside and somehow, five hours later, I was riding shotgun in the truck next to Snoop on my way to my new place.
My parents were in Israel, and called me four times, concerned and upset that they weren't in town to help me. My younger sister and seven-year-old niece took a train in from Jersey and trekked in their snow boots to bring me lunch. I kept telling them that I was fine, that I didn't need any help. I guess I was relishing that taste of empowerment earned from doing something completely independently. Which in hindsight was completely moronic.
That night, after unpacking as much as I was able to alone (my sister had left hours ago), I decided to quit for the day. I had done plenty! That, and because I had tried to drag my couch to the other side of the room, and ran over my pinky toe. I thought of Samantha from Sex in the City, in the episode where her blinds come crashing down on her head, and she wails, under a heap on the floor, "I need a man!!!!" She had a point. But that wasn't going to stop me from celebrating.
I went to eat at Gramercy Tavern, and toast the day's events and the promise of the future. On the street right outside my apartment, I ran into Mr. Big. Another sign, you ask? That's what I thought.
I woke the next morning to my buzzer ringing. A surprise delivery. From Fresh Direct. In my parents' absence, my sisters had ordered five boxes worth of food and supplies to stock up my kitchen (yes folks, it's always about food. There weren't really any supplies).
As I unpacked everything into my first "real kitchen"(my last apartment kitchen was more like a built-in shelving unit), it began to dawn on me how each and every item was selected with such love and care, from the two people that know me best.
This time it wasn't a dishtowel, but dates (the fruit) that undid me. This time, it wasn't tears of loss that surprised me, but tears of gratitude.