This was a week where the running theme was "milestones" – weddings and Bar Mitzvahs.
I didn't go to a wedding, but I could have gone to my own. I was sitting outside my office the other day, when a man walked by and said, "Can I ask you a question?"
I nodded.
"Will you marry me?" he said.
I chuckled, and thanked him for the flattery. Before he turned to go I asked him, "What would you do if I had said yes?"
"I'd take you to Vegas this weekend, "he said. "I'd buy you presents. I cook and I clean."
I smiled. "That's nice of you. But I'm engaged," I said, hiding my unadorned ring finger behind my back.
Maybe I learned my lesson the hard way from telling my mover that I was single. Or I subconsciously knew that "engaged" projected optimism and love (saying you're married doesn't always have the same effect), and he would be instantly deterred.
It worked. He politely introduced himself, shook my hand, wished me the best of luck, and then walked away.
That was a first.
A few days prior, on a date with a divorced man, the topic of marriage came up a few times – not a surprise – or a taboo – when two divorcees are conversing.
So did the topic of Bar Mitzvahs. The guy has kids around that age, and when I referenced how often I go out to bars with clients for drinks (too often), he mentioned how much wine he gets put in front of him…at Bar Mitzvahs.
I laughed. But I wasn't laughing at him, I promise, even though it seemed that way (he laughed along with me). I found it funny because it was in sharp contrast to my own lifestyle, although I understand that your children's lives can dictate the way you live yours.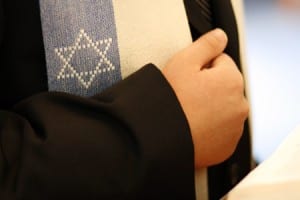 Today I went to my nephew's Bar Mitzvah, held in a beautiful synagogue in New Jersey (my second time in synagogue this month, let alone this year). He is my only nephew amongst 5 nieces, and this was a big deal. Both my sisters and I went to the same high school, and I knew all of their friends. It was nice to see old faces (older, yes, but everyone looked the same). My older sister's friend was there, a talented cantor who chanted the prayers. He also happened be my sister's ex-boyfriend, who later set her up with her now husband. In a way, it was because of him that my nephew stood there on that day.
I met my ex-husband in college. Years later, he and I introduced his best friend to my younger sister. They are now married with beautiful children.
I thought about what my date the other night had said about frequenting Bar Mitzvahs, and as I sat in the sanctuary listening to my brilliant nephew speed-read the Torah, I struggled to recall when the last time I, a single woman without children, had been to a Bar Mitzvah.
When the service ended, I instinctively ducked as tiny packs of candy sailed threw the air, pelting the Bar Mitzvah boy. It is a Jewish custom to throw candy at a groom before his wedding, to wish him a sweet marriage, and that custom has extended to a Bar Mitzvah boy as well.
That's when I remembered. Ten years ago, I was standing at my brother in law's Bar Mitzvah, when my ex-husband was struck in the cheek by a stray bag of caramels. This time, my sister (the mother of the son), was struck in the eye (Gosh, kids are mean! But it was an accident!).
The party was held in the sukkah. It was a colorful fall day, and the tables were beautifully decorated with fresh fruit (No wine. Although that didn't stop Mom from taking a sip of my club soda to verify that it wasn't vodka).
I got to catch up with my third cousin who I have not seen in years, and chat with his interesting wife. Maybe they thought I was interesting too, because as the event wound down, they told me they had the perfect (age appropriate) guy to set me up with.
I found it ironic that at weddings I don't meet anyone, let alone get offers to be set up.
Disclaimer: not that this was the goal at my own beloved nephew's Bar Mitzvah of course!
But the thought did occur to me. Maybe I (and all divorced women in their thirties and forties) should start going to Bar Mitzvahs. Has anyone made a movie called, "Bar Mitzvah Crashers"?
I'd watch it. Or maybe I should go to a few more Bar Mitzvahs, and then write it myself.
PS. To those of you who commented on my last post and wondered what happened with the young finance cub, the answer is: ultimately, nothing. But I did get a good story out of it. Stay tuned.