I admit it. I love Christmas. Christmas is fun. Christmas is cozy. Christmas is everything it promised to be when I was a little girl who celebrated Hannukah.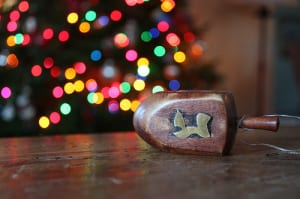 Hannukah is an eight night affair. This is because when the temple in Jerusalem was seized and later reclaimed, there was only enough olive oil for the menorah to burn for one day, and yet miraculously, it burned for eight. But when you're a kid, you're just psyched to get presents for eight days straight. And when you're a Jewish kid, you're psyched to have a holiday that gifts you rather than guilts you.
My family celebrated Hannukah by lighting candles every night and eating latkes (fried potatoes) with apple sauce. I am the middle of three girls, and now that I'm older, I can only imagine how hard it must have been for my parents to buy presents three times eight times. So instead, we got one "big" present. As opposed to my best friend who was the only girl in her family, where each gift successively trumped the next. I would wait in anticipation to hear about the roller-skates she received, the sequined miniskirt, the aquarium, and if she could drive, a pink convertible would have been gift number eight instead of a new piano.
"What did you get?" She would ask me, her brown ponytail swinging like that of the pony she received the year before.
I pulled the sleeves of my purple Gap shirt down over my wrists proudly and smiled, "This!" I said. (And a pair of socks you can't see at the moment).
As a pre-teen, I may have felt short changed, but looking back, my parents' lesson stuck. Holidays are not about extravagant gifts, nor should they be. The emphasis is on giving; giving your time, your attention, and your love to your family and others.
So now that I am celebrating my second Christmas, which spans only one day, gift giving is just a small part of it.
Last Christmas, my husband of just three months and I flew to Kansas, where his parents now live, for my first true Christmas. And it was everything I had imagined it to be. Christmas carols and the scent of cookies and cinnamon candles warmed the space around me. The tree stood near the fireplace, green and red presents hugging its base and spreading along the carpet, beckoning me. We said grace before dinner and told stories afterwards. Hot cocoa with peppermint schnapps warmed my insides. Love for my husband, for my new family, and for God, filled me with joy. (And I did not cut and paste any of this from a Hallmark card).
On the short drive to Church on Christmas Eve, I took in the idyllic scenery; the pretty homes, the snow covered lawns and twinkly facades, the orange lights emanating from curtained windows where families were nestled together in front of fireplaces. As we walked into Church, my husband took my hand as we took our seats, his parents greeting their friends with hugs and Merry Christmas's. I noticed that the stage was decorated with streamers and balloons, like a child's birthday party. A jolt of confusion struck me. Why were they having a kid's birthday party in the evening? This seemed unusual.
It didn't occur to me until half way through the service whose birthday it was.
Yeah, Baby Jesus.
No, Hannukah doesn't prepare you for that.
But Little House on the Prairie reruns do. Somehow, I knew the songs. Onward Christian Soldiers. Noel. Greensleeves. My piano teacher, sweet old Mr. G who used to fall asleep during my lessons, had taught me all of these songs (unbeknownst to my mother). And now here I was on an actual prairie.
This Christmas day, we're going to the Jewish prairie: Miami Beach. My parents are there with my sister and nieces. But first, my husband and I are going to go to Christmas Eve services in Manhattan, and exchange gifts. (I just may have ended up buying him eight of them, as if to make up for my childhood Hannukah, or at the very least, sprinkle some Hannukah in there.)
We don't have a tree, and not only because there is no room for one in our small living room. The focus is not about secular symbols, it's about the birth of Jesus (see above). Instead, we have candles, music, a menorah that we just finished lighting, and each other. As for next year, when our living room is bigger, and perhaps our family too, we can custom make our own Little House.
Happy Christakkah to you all, and lots and lots of love.